According to a recent news report, tenants for the first of 50,000 flats being built in Tung Chung can expect to move in by the first quarter of 2024. That news was passed along by Secretary for Development Michael Wong Wai-lun in his blog recently in a review of the Tung Chung New Town extension project.
"The entire Tung Chung New Town extension provides over 50,000 residential flats, including 32,000 public housing units as well as over 800,000 sqm of gross floor area for office use," Michael Fong Hok-shing, head of the Sustainable Lantau Office said. That would mean a new population of over 140,000, Fong added.
Also in the news, Henderson Land Development, the city's third-largest property company, will loan 430,000 sq ft of farmland to the government for seven years for the development of 2,000 transitional housing units, according to a source familiar with the matter. The goal for the social housing project on the 428,000 sq ft parcel in Kam Tin's Kong Ha Wai, which it calls "the biggest [such project] in Hong Kong ever", is to house almost 10,000 families, for a total of some 40,000 people, according to Henderson, the biggest hoarder of farmland.
"The company is the first to support social housing, having provided 200 units in the urban area so far and lent a construction project in Nam Cheong Street last year to build Hong Kong's first modular housing project," said Martin Lee Ka-shing, co-chairman and managing director of Henderson Land Development.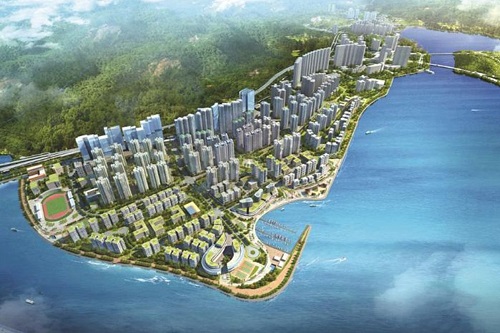 Tung Chung New Town expansion plan (Source: HKSARG)