Hong Kong's iconic urban landscape is well-known for its many skyscrapers, but there is another side to the city - its old and historic buildings. The Hong Kong Institute of Architects' first-ever architectural exhibition "MORE THAN HIGH-RISE–Exploring Hong Kong through Architecture" is being held in Japan as part of the Hong Kong Week in Tokyo.
The exhibition features 16 groups of exhibits by 28 young Hong Kong professionals which explore the notion that Hong Kong has more to offer than high-rise buildings.
Sustainable village living
Karly Lui, Jai Yip and Tomy Lau are taking part in the expo, showing their handmade scale model of Lai Chi Wo, a 300-year-old Hakka village in Sha Tau Kok. Ms Lui noted that the village is in a remote area, so it can retain its original architectural style as Hong Kong continues to undergo urbanisation. The trio believed the village was high in research value and chose it as their exhibit topic. Before starting work on the model, they paid several visits to Lai Chi Wo to carry out research. Lai Chi Wo is a prime example of a walled Hakka village with its nine narrow horizontal lanes and three vertical lanes.
Kenneth Tse has worked on conserving the Blue House tenement building cluster in Wan Chai, and is also one of those taking part in the Tokyo exhibition. The Blue House Cluster is one of the projects under Batch II of the Development Bureau's revitalisation scheme. It comprises three tenement buildings constructed from the 1920s to the 1950s - the Blue House, the Yellow House and the Orange House. He said the characteristics of the revitalisation project are unique in Hong Kong - restoring both the buildings and the community. Mr Tse hopes his exhibit can inspire visitors to consider the resettlement of residents in old districts during a time of rapid urban development.
Among the exhibits is Architectural Services Department Senior Architect William Tsang's PMQ model. Located in Central, PMQ is the former Police Married Quarters revitalised to become a dynamic arts, design and cultural centre. Mr Tsang said one side of the model depicts a police officer's family life, such as how their children would play in the corridors or how families would have meals on the terrace, while the other side demonstrates how PMQ is currently being used, including how designers use the space for their exhibits.
PMQ is one of the revitalisation projects under the Development Bureau's Conserving Central initiative. His exhibit also features historical photos of the former Police Married Quarters and its former residents' family photos.
The exhibition runs from November 1 to 11 in Ginza, Tokyo and was opened by Chief Executive Carrie Lam during her trip to Japan. It features a variety of models, diagrams, photos, videos and multimedia displays that explore Hong Kong in different scales and reveal the relationship between architectural design and high-quality city living.
Project Leader Vincent Ng said he wanted to showcase that apart from high-rises, there are a lot of old and historic buildings which have been conserved in Hong Kong. Mr Ng added that through their exhibits, the participants can introduce a different side of Hong Kong and showcase their ideas on its history, culture and daily life.
A forum on the opportunities and challenges faced by young Hong Kong and Japanese architects is included in the exhibition. It is a chance for an architectural, cultural and intellectual dialogue between architects, scholars and the public from both Hong Kong and Japan.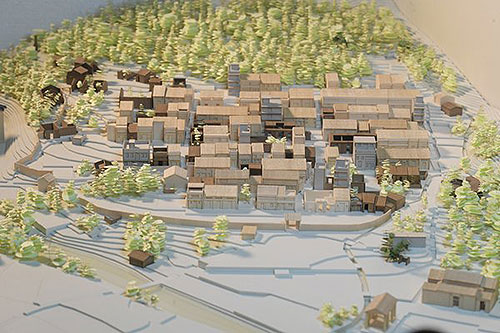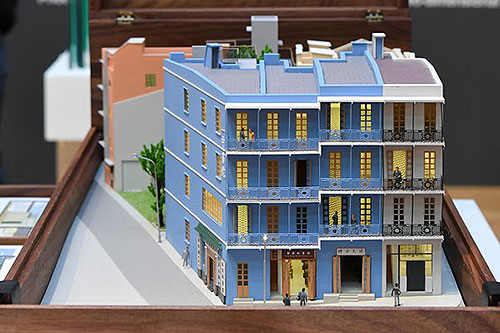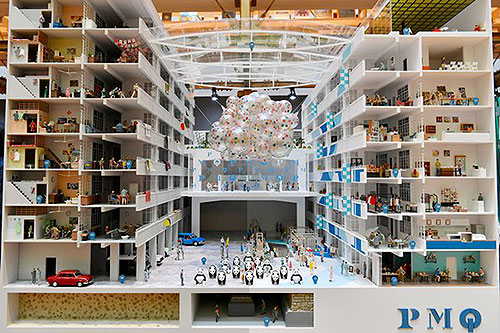 (Photos: HKSAR)



Building Materials & Equipment Suppliers Company Profiles <click here>