Construction of the urban regeneration project Shanghai DreamCenter is well underway and slated to open by the end of 2018. An international consortium, comprises The Oval Partnership, Kohn Pederson Fox Associates, 3XN, P&T Group, Schmidt Hammer Lassen Architects, ASPECT Studios and SIADR, is tasked with transforming what used to be Asia's largest cement plant into a world class entertainment, art and cultural hub on the West Bund along the Huangpu River.
The 460,000 sq m creative and lifestyle destination will feature performance venues, creative media studios, theatres, cinemas, galleries, retail areas as well as restaurants and bars. One of the most ambitious developments of its kind in China, Shanghai DreamCenter is envisioned to become the flagship attraction of the West Bund Media Port in the Xuhui district.
The Oval Partnership is responsible for the masterplan of the one kilometre long waterfront area, as well as the overall retail concept design linking the Metro Line 11 station and the riverside. In response to the vastness of the site, the architect adopted a scenario planning approach that puts people at the centre of the masterplan design. The new urban form is an organic continuation of the city fabrics. Walkability is the primary objective: permeability, high quality public realm and pleasurable pedestrian experiences. Civic plazas, urban parks, streets, lanes and alleys are carefully orchestrated to create a rich network of public spaces, with human scale and urban experience at the heart of the design.
The waterfront site features five industrial structures which are part of a disused cement factory that dates back more than a century. These robust remnants of the city's glorious industrial past are conserved and adapted into multi-purpose performance venues providing a total of 8,500 seats, including a 3,000 seat arena housed in an enormous dome where cement was once mixed.
Developed by Shanghai DreamCenter Creative Culture Development Ltd, the project is expected to complete at the end of this year.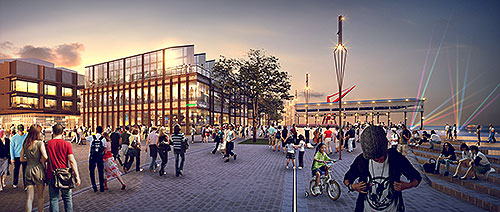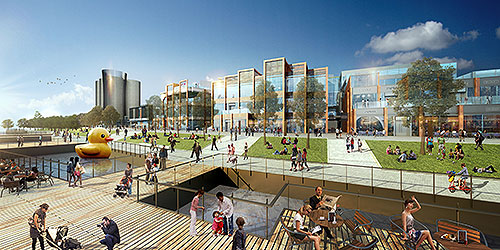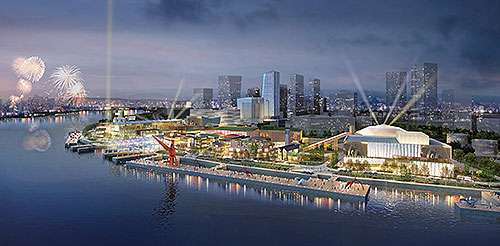 (Source: The Oval Partnership)