A ground breaking ceremony was held on March 26 which signifies the construction of the Shimao Shenzhen-Hong Kong International Center has officially commenced.

The project is located in the Longgang District on the eastern part of Shenzhen city. Occupying a site area of 322,000 square meters, a 700-meter skyscraper will be built. The large-scale integrated project will have a total GFA of approximately 1,364,500 sq m. The total project investment cost is being estimated at RMB50 billion yuan.
The development will comprise office and commercial space, a 5-star hotel, luxury apartments, an international school, a center for performing art and a world class convention and exhibition center.
Upon completion, the Shimao Shenzhen-Hong Kong International Center will probably become the tallest building in Shenzhen at 700 m, overtaking the Ping An Finance Center which was completed in 2017 at an overall height of 599 m.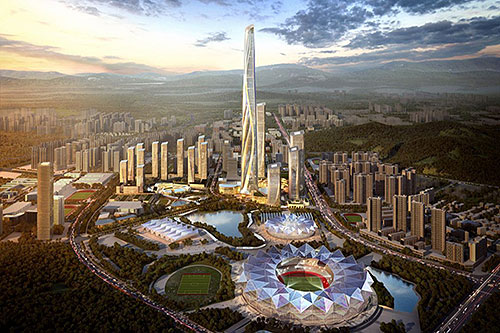 Online and Offline year round advertising package from