The Water Supplies Department will follow up on the Ombudsman's recommendation to minimise water main bursts and reduce the leakage rate of water mains.
Responding to the Ombudsman's recent report, the Water Supplies Department said a programme was launched in 2000 to replace and rehabilitate 3,000 km of water mains in stages and the condition of government water supply networks has improved significantly since then.
The number of water main bursts reduced from 2,500 cases in 2000 to 88 cases in 2017, while the leakage rate of water mains dropped from 25% to 15%. The department added it has implemented or will implement measures in the Ombudsman's recommendations on monitoring locations with repeated water main bursts and prioritizing its follow-up works and undertaking of improvement works.
It will also remind government works departments to declare the poor performance of a contractor. The department's guidelines may be revised to include objective criteria for planning inspections of road works projects located near water mains.
The department said it has strategically implemented cost-effective water main repair and improvement works based on data collected from the water supply network under the District Metering Areas it established.
To reduce the leakage rate, the department will make reference to the experience of cities with good performance in maintaining the health of water supply networks in terms of surveying, leak detection techniques and water pressure management. It may also set targets for reducing the leakage rate of water mains and publish regularly the latest leakage rate on the department's website.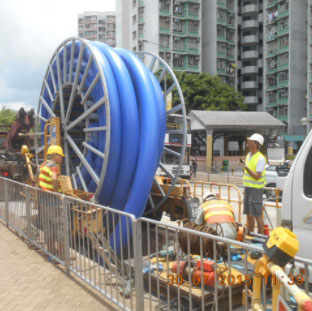 (Photo: HKSARG)