December 30, 2016

MTR South Island Line opens for passenger service

With the departure of the first South Island Line Train from South Horizons Station for Admiralty Station on 28 December 2016, the convenience and comfort of MTR railway service was officially extended to the Southern District.

The 7-km South Island Line comprises four new stations and an expanded interchange at Admiralty Station. It offers the 350,000 people living and working in the Southern District reduced journey times as well as seamless connections to the MTR railway network which now covers all 18 districts of Hong Kong.
"To prepare for the South Island Line's opening, more than 700 MTR and contractor staff worked overnight to change more than 33,000 signs and information boards throughout the MTR network as well as update digital information and fare collection software to incorporate the new line and its stations," said Mr Lau Mr Adi Lau, Operations Director of MTR Corporation.

Construction of the South Island Line began in 2011. The medium-capacity line extends railway service from Admiralty Station to the south side of Hong Kong Island through tunnel and viaduct sections to serve new stations at Ocean Park, Wong Chuk Hang, Lei Tung and South Horizons. The connectivity of the community is also enhanced by the addition of pedestrian facilities such as walkways and footbridges.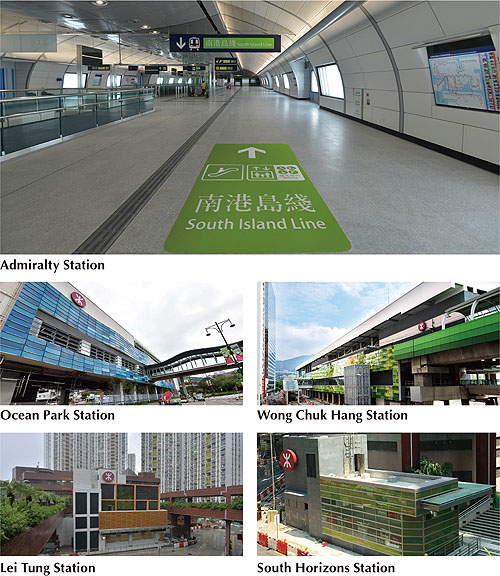 (Source: MTRC)