November 30, 2016

Melco Crown unveils new hotel brand ĘC MORPHEUS at City of Dreams

On 29 November 2017, Melco Crown Entertainment Limited, a developer, owner and operator of casino gaming and entertainment casino resort facilities in Asia, unveiled the new hotel brand created for the new fifth hotel tower at City of Dreams – Morpheus, which is named after the God of Dreams.

The brand differentiates itself by embodying a new contemporary, simple yet stunning, and sophisticated luxury. Morpheus signifies the beginning of a new wave of opulent hospitality experience in Macau that has the potential to attract visitors from global destinations. Morpheus, the new luxury hotel situates at a prime location within the premium integrated entertainment complex, City of Dreams, in Cotai, Macau. Its new vision on design, architecture and luxury is a unique representation of sophistication, smartness and conscientious contemporary hedonism. Morpheus champions a philosophy of quality in substance, which gracefully balances simplicity and style in an up-to-the minute expression. The new hotel at City of Dreams is expected to commence operation in 2018.
"The new hotel brand Morpheus is designed to satisfy and inspire the dreams of tomorrow's most sophisticated and aspirational international travelers. The intricately elegant tower that embodies Morpheus is the world's first free-form exoskeleton high rise. It is another of the Company's striking world's first contribution to Macau to expedite the city's development into a world center of tourism and leisure. We pride ourselves on being the curator of excitements and we strive to build the coolest, most distinctive integrated resorts. This world-leading architectural masterpiece at City of Dreams is destined to become an icon in the Macau skyline and to set a new benchmark for a contemporary ultra-luxurious hospitality experience," said Mr Lawrence Ho, Chairman and Chief Executive Officer of Melco Crown Entertainment.
Morpheus will be situated in the iconoclastic mega sculpture designed by the late Dame Zaha Hadid. The new tower is one of the last and most brilliant designs created by the legendary architect. It presents the world's first free-form exoskeleton architectural composition incorporating a number of architectural and technological breakthroughs. Inspired by jade artifacts, no two pieces on the structure are the same. It comprises two towers with a total of 39 floors, connected at both the podium levels and the roof. A series of voids gives it sophistication and volume along with a distinctive appearance as well as exciting internal space.
For full story and more illustrations, please refer to the next coming issue of BUILDING JOURNAL. Subscribe BUILDING JOURNAL E-version <click here>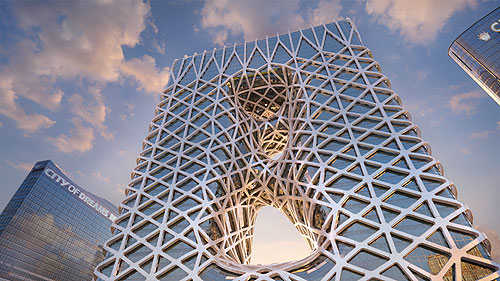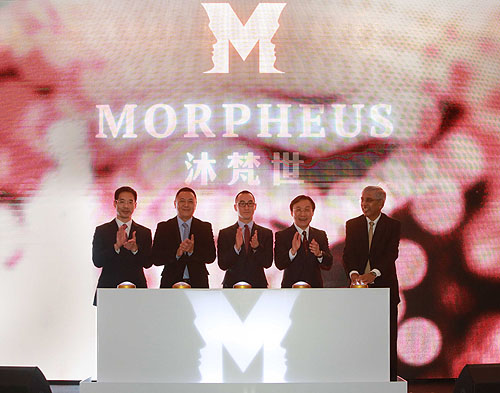 Mr Lawrence Ho, Chairman and Chief Executive Officer, and Mr Jaya Jesudason,
Executive Vice President,
Construction and Design of Melco
Crown
Entertainment, were joined by officiating guests from the Macao SAR
Government: Mr Lionel Leong, Secretary for Economy and Finance, Dr Alexis Tam,

Secretary for Social Affairs and
Culture, and Mr Wang Xindong,
Secretary-
general of the Central
People's Government Liaison Office of
the Macao Special
Administration
Region, to unveil the new hotel brand
name of the new fifth hotel
tower at
City of Dreams – Morpheus.