October 31, 2016

Green buildings benefit people, productivity and profit

On October 25, the World Green Building Council is providing a global business case for healthy buildings, proving that green buildings benefit people, productivity and profit.
The new report Building the Business Case: Health, Wellbeing and Productivity in Green Offices highlights the global momentum behind healthy and green office design and operation, and showcases over 15 buildings from around the world that are leading the way. Green offices keep staff healthy and happy; improve productivity and boosts business' bottom line.

Hong Kong's International Commerce Centre, the tallest building in the territory and seventh tallest in the world, uses its health and wellbeing features to help sell its 2.5 million square feet of office space. Its design makes the most of views, brings daylight into the building and gives good access to shops, services and public transport:


-

Currently, Hong Kong has over 11 million sq m of office space, 20% of which is currently certified green by the Hong Kong Green Building Council's (HKGBC) BEAM Plus system.

-

The report includes 5 examples of green offices in Hong Kong, detailed actions they have taken to improve air quality, and improve health and wellbeing of the occupants.
Other strong business cases from around the world:


-

Skanska, UK; cut sick days by two thirds by improving layout and noise, indoor air quality and lighting. Saving the company £28,000 in staff costs.

-

Heerema Marine Contractors, Amsterdam; expect to realise a net present value of €42 million over 20 years of productivity, staff retention & reduced absenteeism.

-

Saint-Gobain, US; call centre staff doubled their productivity after moving into the new building, with 97% increase in sales-generated leads.
WGBC are offering a toolkit, identifying 8 key factors in creating healthier and greener offices to impact the bottom line.
1. Indoor Air Quality and Ventilation
3. Daylighting and Lighting
5. Interior Layout and Design
8. Location and Access to Amenities
Terri Wills, CEO of the World Green Building Council, said: "While our earlier work presented the overwhelming evidence between office design and improved health and wellbeing of workers, this report breaks new ground by demonstrating tangible action businesses are taking to improve their workspaces. The results are clear – putting both health and wellbeing, and the environment, at the heart of buildings, is a no brainer for businesses' employees and the bottom line."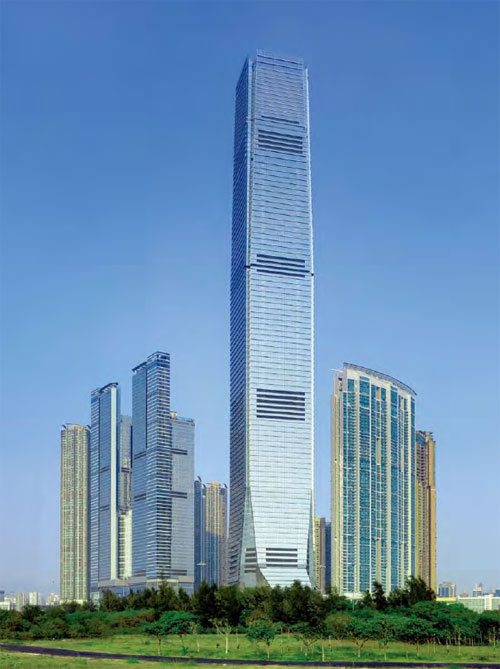 International Commerce Centre, Hong Kong