October 17, 2016

Macau New City development - new land and growing population pave the way for unprecedented construction boom in the coming decade


With the imminent completion of the Hong Kong-Zhuhai-Macau Bridge, business activities, especially in the building and construction sector will take off with a new perspective to pave the way for long term cooperation between Hong Kong and Macau.

Riding on this opportunity, HKTDC and Building Journal jointly organise a professional seminar on October 27 at Asia World-Expo, currently with three premier shows, to bring major stake holders in the region together to explore the enormous potential of opportunities and collaborations in the Hong Kong-Macau region.


Limited seats are available FREE on a first-come-first-served basis. REGISTER NOW! Certificate of Attendance will be issued upon request. Supported by CIOB Hong Kong, Hong Kong Institute of Surveyors and Macau Construction Association.


Transportation Free Shuttle to and from venue <Click here for details>
Seminar programme and registration <Click here>
Macau LRT - The largest public transportation project in Macau
Macao LRT project officially entered the stage of large-scale construction in 2012. In 2015, the hoisting and installation of the approximate 4 km viaduct of the LRT Taipa line was completed and the viaduct area between Ocean Station and Jockey Club Station was the first to be connected. Construction of the main structure of 11 stations was commenced.
In July 2016, the Tender Opening for "Construction works for Depot Superstructure of Macao LRT" was conducted by Macao Transportation Infrastructure Office (GIT). A total of 7 companies submitted tenders, with bidding prices ranging from MOP888 million to over 1,385 million. Finally, 6 companies' tenders were accepted and the longest construction period for this project is 834 working days.

As for the Macao peninsula line, the south section was still in the design and revision phase. The consultation result of the north section was released in the middle of 2015. The coastal routing plan, among three routing plans, won the most support from the public. The government would organize technical research later to prevent the construction from affecting traffic during the construction period with as little disturbance as possible. (Source: MSAR Government)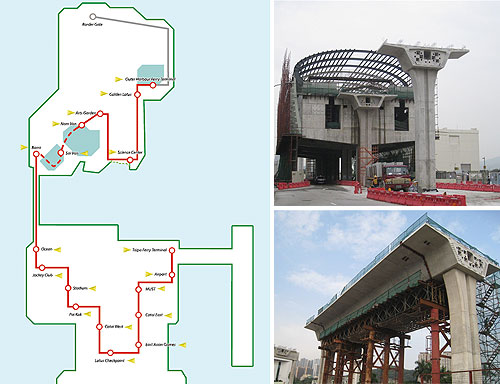 (Photos: Macau SAR Government)