Lujiazui Harbour City in Pudong, Shanghai will see 250,000 sq m of riverside land redeveloped into an iconic future destination for the city. Forming one of the important components of the overall development, Gala Avenue Westside will bring a unique commercial proposition to the overall scheme. Formerly one of the most significant industrial properties in the region, the site was previously a shipyard operated by the Shanghai Ship Company since the 1800s.
"This is a very prominent scheme which will shape the future of Shanghai's Lujiazui district. We have embraced the history of the site and built upon this as we conceived our design which celebrates the themes of 'New and Old', 'East and West' and 'Traditional and Modern'," said Qin Pang, Director and Head of Benoy's Shanghai Studio.
Consisting of a 100-m office tower and 12 interconnected retail hubs which will span two to three storeys in height, Gala Avenue Westside will combine high-end shopping, entertainment, and public space alongside its commercial offer. A chain of squares will form an internal streetscape and link the buildings, both above ground and below, along with a network of green spaces; allowing visitors to easily navigate the whole development and discover new, surprising areas throughout.
Inspired by the site's antecedents as a shipping yard, the design language creates a rich sense of experience; combining historical elements, traditional details and modern materials. Woven through each of the development's components, the design allows the buildings to coexist yet remain independent and diverse.

In planning, the development has been positioned for maximum retail exposure, with the tower situated to heighten the identity of the scheme along the main Yinchung and Jimo Roads. The scheme will offer scenic views of the famous Huangpu River and the Pudong cityscape.
The interior design of the various components will follow an elegant yet minimalist design form and material palette. The elements have been inspired by the traditional Shikumen-style found in Shanghainese structures together with modern design methods to create a distinct ambience for each of the buildings.
The project is developed by CITIC Limited and China State Shipbuilding Corporation. The development will provide a total GFA of approximately 153,000 sq m. Appointed as the masterplanner, architect and interior designer, Benoy will deliver the full scope for the scheme due to complete in 2018.
For more illustrations, please refer to the coming issue of Building Journal. Subscribe <E-version>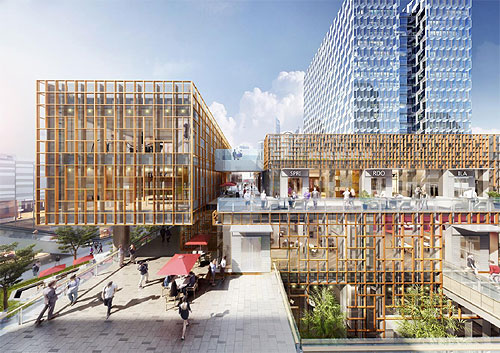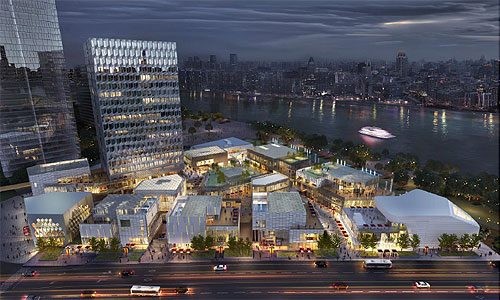 (Source: Benoy)