February 26, 2014

Hong Kong-Barcelona symposium on waterfront regeneration opens at HKU

The Hong Kong-Barcelona Urban Exchange: A Dual Approach to Waterfront Regeneration symposium was officially launched on February 22 at the Centennial Campus of the University of Hong Kong, with over 400 planning and urban design professionals from Hong Kong, Barcelona and the international community attending. The symposium is aimed at exchanging and sharing knowledge in the area of planning, urban design, and green environment based on the experience of the two cities, especially with regard to waterfront regeneration.
The symposium was organised by the Government of Hong Kong Special Administrative Region (HKSAR) and the Government of Barcelona City, together with the Hong Kong Institute of Urban Design, the Hong Kong Institute of Planners and the Hong Kong Green Building Council.
The Secretary for Development, Mr Paul Chan, and the Deputy Mayor of Barcelona, Mr Antoni Vives, officiated at the symposium. Keynote speakers included the Head of Energizing Kowloon East Office of the Development Bureau, Mr Raymond Lee, and the CEO of Barcelona Regional, Mr Willy Muller. Speakers shared their experiences and insights and discussed the challenges encountered in designing new urban sites for the two cities.
In 2012, the Government of the City of Barcelona and the HKSAR signed a Memorandum of Understanding (MOU) to mark the beginning of long-term co-operation between the two cities in the field of urban development.
The symposium exemplifies the increasing collaboration between the two cities in examining planning and design issues. The challenges that the two cities are facing in enhancing their respective waterfronts also provide a common framework for sharing knowledge and seeking quality solutions.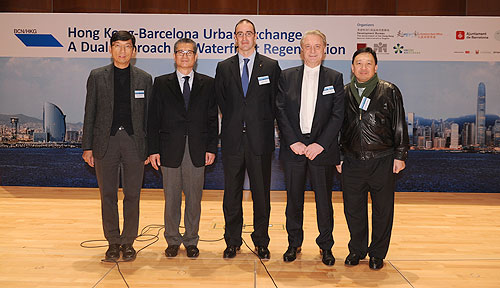 (From left) Bernard Lim, President of Hong Kong Institute of Urban Design,
Paul Chan, Secretary for Development, HKSARG, Antoni Vives, Deputy Mayor
of Barcelona, Peter Cookson Smith, Immediate Past President of Hong Kong
Institute of Planners, Conrad Wong, Chairman of Hong Kong Green Building
Council