May 2000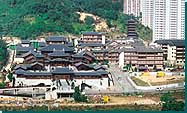 Traditional carpentry tools were used
in the construction process



Chi Lin Nunnery
Grand recreation
Historians and patriots talk about the great Chinese civilisation, which has produced so many inventions and spectacular relics. How much more would they be able to enthuse about if so much had not been lost through the ages? Ancient Chinese architecture, with its emphasis on harmony with nature, was one of those losses until recently, when a concerted effort by devotees and a team of architects and builders led to a full-scale recreation of a Tang Dynasty temple complex in the form of the Chi Lin Nunnery at Diamond Hill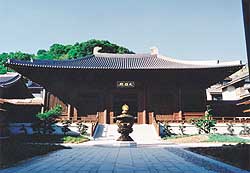 The effort was by no means easy. There are similar temples in Japan and one example at a temple in Shaanxi, but a monastic complex of the scale and grandeur conceived for Chi Lin only existed in ancient Dunhuang paintings. Chi Lin involved the creation of a 180,000 sq ft complex consisting of 15 halls. There are nine ancient timber structures and three reinforced concrete structures. Facilities such as the bell and drum towers; the Hall of Celestial Kings; the Ten Thousand Buddhas Pagoda; an ancestral hall; a scripture library; a prayer hall; and the Dharma Hall are complemented by landscaped gardens designed in accordance with ancient architectural principles.
The buildings are also disposed according to the orientation principles of classic Chinese architecture. That means having a south-facing complex set against a backdrop of mountains to the north, with buildings distributed along an east-west axis. All the important or ceremonious halls are situated in the east while halls for more private functions, such as an ancestral hall and utilities for the devoted, are situated in the west. Windows set in the eastern facades are set at an angle to deflect solar glare and soften the impact of the wind, while a lotus pond in the south is strategically placed so that it can fill the complex with its becalming fragrance in the summer as the smell of fresh lotus floats through the air on a southeasterly breeze.
In order to recreate Tang Dynasty architecture, the combined skills of historical researchers, experts from Tsinghua University and craftsmen from Japan as well as various parts of China were deployed.
According to Yu Leung, senior manager (contracts) of Hip Hing Construction, which was main contractor and project manager for the project, a draft of the buildings was drawn up based upon details in the Dunhuang paintings. A construction team from Beijing was then brought in to work out the structural configuration. Scale models were used to determine the soundness of ancient structural timber assembly.
A Japanese specialist from Nara who is the sixth generation to be involved in the restoration and construction of ancient buildings was invited to teach the whole team how to build an ancient temple. In addition to teaching the craftsmen how to build the structure, he also gave them tips as to where things were most likely to break down, what were likely to need restoration and how long the structure could be expected to last.
Then came the challenge of finding the timber for a structure which would testify to the glory of ancient Chinese architecture for years to come.
Traditionally, Chinese temples were built using locally available timber. This, of course, was completely out of the question in modern, urban Hong Kong. Intead, timber was sourced from China, the US, Canada and Africa.
The type of timber used most extensively on this project is yellow cedar from Canada, which was selected for its light weight, flexibility, pleasant aroma and insect-repelling properties. In order to obtain best results from the timber, natural treatment methods were adopted, with the timber being soaked and wind-dried rather than kiln-dried. According to Mr Yu, a total of 228,000 pieces of timber were used for this project.
The timber frames support roofs which were designed with the nunnery's location in a southern region in mind. The need to cope with rain rather than snow is reflected in the curved eaves, which allow water to fall off gently. Northern structures would have featured straight, sloped eaves designed to unload snow, according to Mr Yu.
About 350,000 pieces of roof tiles made by traditional methods in Nara were imported for the project. Although they were made in Japan, Mr Yu said they were all based on ancient Tang designs. Due to the humid weather in Hong Kong, the tiles were installed with a dry method instead of mud. Mr Yu said tying the tiles together with wires makes it easier to replace them in the future. At the same time, wires do not absorb water or attract ants like mud does, so the dry installation method would help prolong the structure's life.
Although modern systems and techniques were used, for example to protect the complex from fire through a sprinkler system; traditional methods were followed as much as possible. Thus, the timber structures were constructed using traditional bracketing, which does not require nails or bolts. Each intricate bracket is made up of numerous interlocking components, with the simplest brackets having a dozen components and the complex corner brackets about 100 components. For an idea of the complexity involved, the bracketing system for the 4,000 sq ft main hall has 6,000 components in eight layers.
Similarly, a traditional waterproofing method using bark was preferred to modern waterproofing methods. Apparently the traditional method would work better than a modern one, because bark would allow the timber to breathe.
Chi Lin Nunnery has been built to last at least 500 years. In order to facilitate maintenance as well as to ensure that details of how to build such a Tang Dynasty complex will not be lost again, Hip Hing has prepared extensive documents listing all materials and maintenance procedures. For example, a log book has been compiled listing all the details about every piece of timber used, including type, dimension, purpose and exact location. Each piece of timber even has its own identification number.
The complex is expected to thrive in a natural setting where living flora and fauna provide a nurturing atmosphere for the timber structures. One hopes the air pollution which has dogged Hong Kong in recent years will not spoil the beauty or longevity of this masterpiece.
client Chi Lin Nunnery
architect Don Pan & Associates
main contractor Hip Hing Construction